The Loire family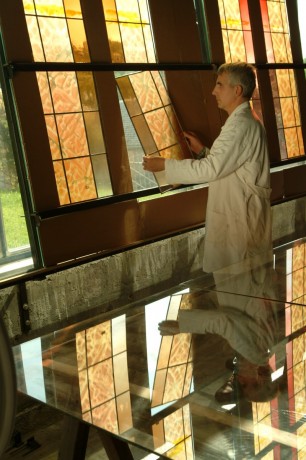 Bruno Loire
Bruno Loire, son of Jacques Loire, born in 1959, studies territory development and works for some time in this sector. He returned in 1986 to the family business by opening the "wall art studio" at the service of artists for the realization of their monumental order: painting, mosaic, stained glass.
After a first major project with Valério Adami for the Austerlitz station in Paris (2 large mural paintings of 160m²) succeed many realizations with among others: Hervé Télémaque, Robert Combas, Francois Morellet, Peter Klasen, Jean-Michel Alberola, Jean Paul Albinet, Pierre Buraglio, Jean Michel Folon and Father Kim En Joong.
Enriched by contacts with all these artists, Bruno is at the origin of the edition of "Vitraux d'artistes" presented at SAGA (FIAC edition) in Paris since 1991.
Since 1995, he has been focusing on the "glass" material, which is seeing new techniques that he develops, develops or perfects with the glass industry: laminating resin, thermoformed glass, tempering, enamel baking on large volumes , double glazing of stained glass ...
This technical diversification widens the possibilities of expression of the Loire but also of the artists whom they welcome for the realization of their windows.
Departmental Delegate of SEMA since 1998, Bruno Loire is also a provincial delegate to the office of the Stained Glass Trade Union Chamber.