Creations
Traditionnal stained glass (Antique glass and lead)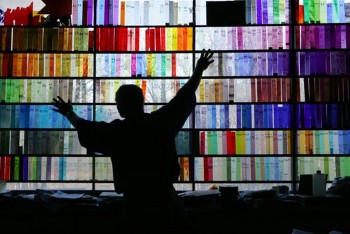 The canopy coloring over 300 different shades and materials
The traditional technique of stained glass window with colored glass enhanced with grisailles (paint) and set with lead has existed since the Middle Ages, as evidenced by the windows of the 12th and 13th century of the Cathedral of Chartres.
The Loire studio use this technique combining antique glasses (mouth-blown glasses) with the full range of printed, plain, colorescent, floated glasses ... thus offering a palette of more than 300 different shades and materials from several glassworks, including that of St Just sur Loire.
The pieces of glass once cut (diamond, roulette, water jet ...) can be enhanced by paints (grisailles, enamels, cements) traditionally applied with a brush.
The paint is vitrified by cooking at 650 ° and then the pieces of glass are crimped by a lead profile with tin solder.
Special techniques: acid work, sabalage, superposition of piece of glass ... further extend the possibilities of expression.
These stained glass in traditional technique can be inserted between the two glasses of a double glazing for a good thermal and phonic insulation as well as a protection of the work and the people.