The team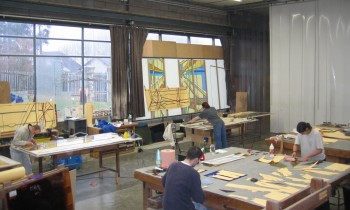 Realization of stained glass windows of the Our Lady of Nazareth church in Vitry-sur-Seine, France
A team of ten people around Jacques, Bruno and Hervé brings together all the know-how in the field of stained glass and glass, as well as for the installation of stained glass.
While some companions are more specialized, most are versatile in the studio and construction, and can follow a stained glass project from realization to installation.
The basic training courses, CAP vitrailliste, are completed internally but also by targeted internships.
The knowledge has been transmitted within the team for more than 70 years.