The Loire family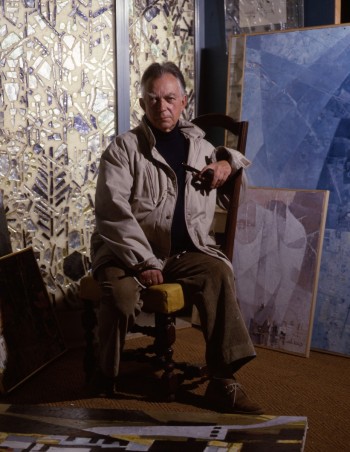 Gabriel Loire
Born in 1904 in Anjou, a family of tanners, Gabriel Loire studied business in Angers while attending classes at the Ecole des Beaux-Arts.
He published his final thesis "The stained glass: historical insights, artistic and technical" and comes to Chartres where he works from 1926 in the only workshop of stained glass Chartres of the time, the workshop Lorin which he becomes the partner. He married Françoise Bretault in 1927 and will have six children, Bernard, Colette, Jacques, Marie Odile, Brigitte and Bernadette.
In this workshop from the tradition of the 19th century, Gabriel can not express himself as freely as he wishes; he also prefers to take his independence and leave the Lorin in 1936. A non-competition clause forbidding him to make stained glass for 10 years, he tackles other crafts: ceramics, sculpture, creation of furniture, illustrations , mosaics ... while continuing to paint and draw.
In 1946, he opened a workshop in Chartres at Rigeard for the realization of his stained glass windows. this one is developing very quickly thanks to the context of post-war reconstruction and thanks to the success that the stained-glass window shows to architects and religious seduced by this technical and aesthetic renewal. But, as Charles Pratt explains, "the rapid success of the Loire can be explained by the quality of its work, its rhythms, its colors, the expressive readability of its figurative stained glass windows and the emotionally charged but accessible vigor of its abstract . "
In 1948, Gabriel Loire buys a property in Lèves whose main buildings, castle, chapel and outbuildings, are from the 19th century. He built the buildings that still house the workshops.
At the beginning of the 1950s, Gabriel's stained glass was mainly intended for religious buildings in France. But soon his notoriety spread abroad, in Europe and then in the United States.
Today his creations shine throughout the world with prestigious commissions such as "The Church of Remembrance" in Berlin, Salisbury Cathedral in England, the Thanksgiving Square Chapel in Dallas (USA) or the "Bird Tower" of Hakone in Japan. It is in the United States that the master glass chartrain is the most requested, especially from 1960 to 1975, with more than 250 mainly religious achievements.
A few years after the death of his wife, he married in 1965 with Annie Bernard, musician and linguist. With her, he travels a lot in France and abroad from where he brings back numerous sketches every time.
In 1970, Gabriel entrusted the direction of the workshop to his son Jacques, who had already been helping him for twenty years. He then devotes himself more to painting but is always asked for large stained glass projects.
From 1986 to 1996, he will have the pleasure of working on stained glass, mosaics and murals with his son Jacques and his two grandsons Bruno and Hervé.