The Loire family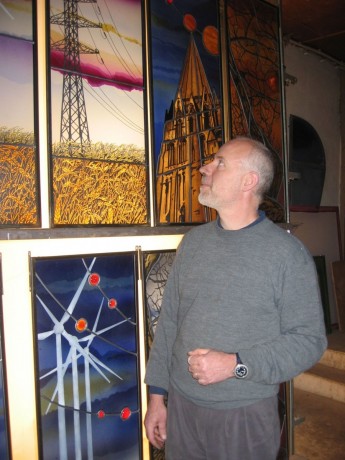 Hervé Loire
Hervé Loire, son of Jacques Loire, born in 1961, always knew he wanted to take over the studio. He prepares the competitions of the university of art and integrates ENSAAMA from which he graduated in 1984. In order to perfect his knowledge of the trade, he goes to work for two years in stained glass studios in Germany and the United States.
It is in 1986 that he finds the family studio where he was accompanied by his father Jacques and his grandfather Gabriel in the creation and the realization of stained glass windows like those of the church of Coignières (78).
He is the director of the prestigious stained glass restoration projects at the studio, such as those at Chartres Cathedral, Chambord Castle or the Cathedral of Versailles.
The creation of stained glass is entrusted to him for churches (Marey Fussey, Chapel of the Dominicans of the convent of Evry, Saint Julien Les Villas, Colmar hospital, Senantes, ...), public places and private houses.
In the tradition of his grandfather and his father, the slabs of glass is one of his favorite techniques that he uses with a personal expression.
Hervé deals with thermoforming, fusing and participates in numerous stained glass exhibitions in France and abroad.
With his brother, he accompanies the artists in their stained glass projects made in the studio.
He is asked as trainer with different structures (CERFAV, GRETA, ...)