Other places and activities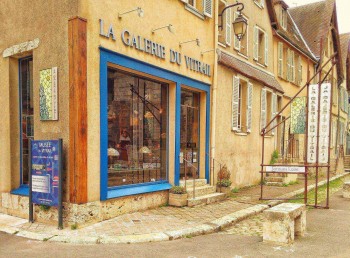 Outside view of the Galerie du Vitrail
La Galerie du Vitrail
---
Created in 1976 by Micheline Loire, facing the north porch of Chartres Cathedral.
This unique gallery offers more than 250 m² a discovery of the different aspects of stained glass:
Exhibition and sale of contemporary stained glass windows by French and foreign artists.
Exhibition and sale of old stained glass windows, especially from the 19th and early 20th century
A specialized bookstore with more than 350 book titles dedicated to stained glass
A "shop" space with mirrors, lamps, glass objects ...
A space "Stained Glass Leisure" porposing glass, lead and tools necessary for the realization of stained glasses.
An annual exhibition from June to Spetember devoted to a technique, a theme, a school or an artist.
17 Cloître Notre Dame, 28000 Chartres, France
Tél. 02 37 36 10 03 - E-mail : galvitrail@orange.fr
From May 2nd to September 30th: from Tuesday to Saturday from 10:30 to 13h and from 14h to 19h, Sunday and holidays from 2.30 pm to 7 pm
From October 1st to April 30th: open from Tuesday to Saturday from 10:30 to 13h and from 14h to 18h30