Creations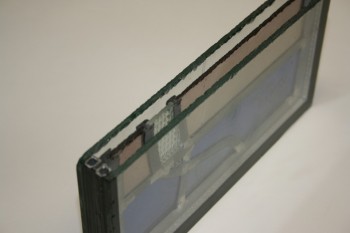 Cut of a double glazing with stained glass in the center
A stained glass in traditional technique can be inserted between two pieces of glass in a glazed doubling bringing thus the performances of thermal and phonic insulation required in the public places as for the particular houses.
It also makes it possible to meet the security requirements related to establishments receiving the public (ERP).
In addition the double glazing protects the artwork (the stained glass) as well as the people. It can also be burglarproof depending on the types of glasses used.
Photos below:
Examples of traditional stained glasses inserted between the two pieces glass of a double glazing
Examples of thermoformed glass assembled in insulating glass