History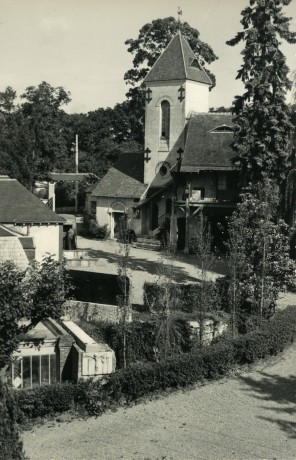 The studios in 1958
In Chartres, capital of stained glass, the Loire have been creating and developing their activities around glass and stained glass for three generations.
Created in 1946 by Gabriel Loire (1904 - 1996) for the realization of its stained glass and mosaics, the Loire studios always keep the footprint of their founder in their buildings and their activities. His works shine on five continents.
Today a second generation, Jacques, then a third, Bruno and Hervé perpetuate together, but each with his own style, the spirit of creativity and innovation in the field of glass and stained glass that animated the studio since its debut.
The Loire Saga
1926 Gabriel Loire enters the studio, of the master glassworker Charles Lorin, which he becomes the partner.
1946 Gabriel Loire creates his studio in Chartres.
1951 His son Jacques joins him.
1976 Opening of the Galerie du Vitrail by Micheline, Jacques's wife.
1986 Bruno and Hervé (3rd generation) arrive at the studio. For 10 years the 3 generations work together.
1996 Death of Gabriel Loire.
2004 Natalie takes over the Stained Glass Gallery and Micheline creates L'Antiquaire du Vitrail.