The studio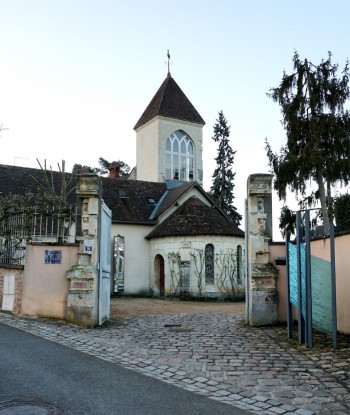 The entrance of the studios
Studios in the shadow of the cathedral ...
In a 19th century property with a manor house, chapel and common, the studios are developed on more than 1000 m² of buildings, 2 km from the Cathedral of Chartres. Each building has its own specificity: slabs of glass, coloring, canopy, glass cut, glass painting, thermoforming but also offices and apartments to welcome artists.
Created in 1946 by Gabriel Loire (1904-1996) for the realization of its stained glass windows and mosaics, Loire studios always keep the footprint of their founder in their buildings and their activities. Gabriel Loire built in 1949 several buildings including the large canopy on two levels.
Jacques in 1960, built the "Boussois studio" studio of more than 300 m² in one piece, which allows the work of thermoforming and painting on large volumes of glass.
Today a second generation, Jacques, and a third Bruno and Hervé perpetuate together, but each with his own style, the spirit of creativity and innovation in the field of glass and stained glass that animated the studio since its inception .
With a team of ten companions, the studios can carry out very important projects in France and abroad.
In parallel with the studio, Micheline Loire, Jacques's wife, opened in 1976 at the foot of the cathedral the "Galerie du Vitrail", and now develops its antique stained glass business.
---
The vitrailleraie
Installed in the gardens of the studio, "La Vitrailleraie" is a permanent exhibition of stained glass in the open air. About sixty works catch the rays of the sun between the trees, along the paths, on the lawns. The course in the middle of the "Loire" creations and the artists welcomed reflects the richness of the materials and the diversity of the techniques and of course, the great creativity of the artists.
This presentation also aims to stimulate the contribution of new ideas and give the desire to integrate stained glass in the architecture but also in the parks.